The Central Bank of Solomon Islands produces three (3) types of economic reports during the course of a year. These reports are: Annual Reports, Financial Stability Reports, Quarterly Reviews and Monthly Economic Bulletins. The Bank also releases Monetary Policies annually and is the source of various financial supervision policies, also known as Prudential Guidelines. Below are the official publications by the Central Bank of Solomon Islands.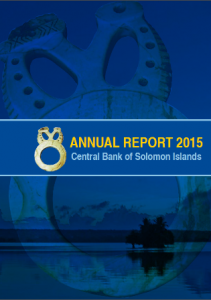 The Annual Report is an update of the economic activities in the past year as well as providing challenges and prospects of the economy.
Financial Stability Report
The Financial Stability Report is an update on the assessment of the Solomon islands financial system in the past year and the outlook for Solomon islands financial stability.
The Quarterly Review is prepared by the Economics Research and Statistics Department of the Central Bank of Solomon Islands and published four times a year. The Quarterly Review reports on the economic performance of the economy during the preceding quarter.
Monthly Economic Bulletin

The Monthly Economic Bulletin reports on the monetary aggregates and other macroeconomic indicators relevant to Solomon Islands on a monthly basis.
view recent and past monthly economic bulletins
Monthly Financial Statement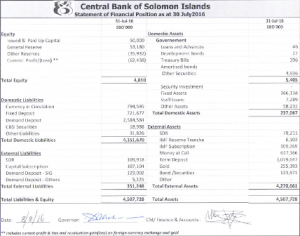 Under the Central Bank of Solomon Islands (CBSI) act 2012, Section 58. requires that upon completion, financial statements are to be published online onto the website on a monthly basis.
The Central Bank of Solomon Islands (CBSI) Working Paper Series disseminates work-in-progress research papers by CBSI staff to stimulate economic and financial debates.