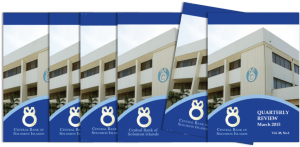 The latest quarterly review is the
March 2023 Quarterly Review.
The Quarterly Review is prepared by the Economics Research and Statistics Department of the Central Bank of Solomon Islands and published four times a year. The Quarterly Review reports on the economic performance of the economy during the preceding quarter.
2023
2017
2016
2014
2015
2013
December (75 pages, 2.21MB)

September (68 pages, 6.03MB)

June (68 pages, 746 KB)

March (68 pages, 896KB)
2012
December (82 pages, 623KB)
September (22 pages, 540KB)

Q3 – Tables (41 pages, 296KB)
Q3 – Statistic Notes (3 pages, 48KB)

June (66 pages, 569KB)
March (68 pages, 482KB)
2011
December (64 pages, 682KB)
September (63 pages, 4.32MB)
June (68 pages, 5.24MB)
March (67 pages, 5.28MB)
2010
December (71 pages, 0.98MB)
September (65 pages, 383KB)
June (70 pages, 477KB)
March (72 pages, 4.7MB)
2009
December (72 pages, 4.3MB)
September (72 pages, 2MB)
June (72 pages, 448KB)
March (72 pages, 871KB)
2008
December (75 pages, 755KB)
September (80 pages, 679KB)
June (81 pages, 975KB)
March (80 pages, 780KB)
2007
December (78 pages, 742KB)
September (79 pages, 815KB)
June (82 pages, 728KB)
March (78 pages, 632KB)
2006
December (76 pages, 711KB)
September – not available
June – not available
March (76 pages, 1.3MB)
2005
December (71 pages, 555KB)
September (78 pages, 710KB)
June (82 pages, 552KB)
March – not available
2004
December (82 pages, 556KB)
September (81 pages, 506KB)
June (91 pages, 719KB)
March (74 pages, 529KB)
2003
December (91 pages, 472KB)
September (81 pages, 266KB)
June – not available
March (85 pages, 270KB)